Leather Care, Repair And Restoration Products ... Direct From My Workshop!
"If you're looking for seriously good results, then here are the exact same products I use for professional leather work."
To help you choose the right product for your leather, select one of boxes below.
Let's Take A Closer Look ...
If want to clean, condition, repair or restore your leather using the exact same products I personally use for professional work ... you've come to the right place.
Being a leather care and restoration specialist for over 35 years, it's important that every single job I do, results in the leather looking, performing and feeling just like the original ... or better! You can see examples of my work at www.paulfordleather.co.nz (opens in a new window)
An important aspect to achieving this, involves the use of high quality repair and finishing resins and leather care products i.e. cleaners, conditioners and protectors.
All of the ingredients used in the restoration and care products are the same as used in the tanneries when making new leather.
First, let's look at the ...
DIY Leather Restoration And Recolouring Products
With such a demand from folks wanting to fix and restore their own leather, I've put together a range of easy to use, DIY products... saving you paying a professional to do it for you.
Many folks don't believe they can achieve professional results, but the truth is, you can and it is really quite simple. Have a look at the testimonials and stories people have sent me and you'll see what I mean!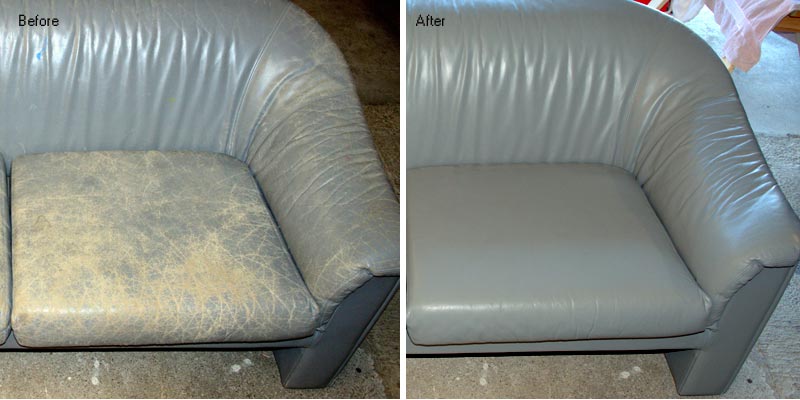 With normal wear and tear, leather will eventually lose its colour.
You can recolour and rejuvinate your leather with one of my custom made leather restoration kits which are made up from the same products I use for professional work.
Here'a video showing some photos people have sent me showing examples of what is possible with the DIY leather restoration products ...
For over 87 'before' and 'after' photos and reviews people have sent me, have a look at the testimonials page.
The DIY Leather Restoration Products a suitable for leather in your car, office or lounge suite and it's a lot easier to use that most people think!
Full Details ...
Leather Care Products
There are many different brands on the market but I've personally found the results of these to be very average and not what I'm looking for.
So, with a lot of help from the tanneries, my own leather care system was created from the ground up ... ticking ALL the boxes of my stringent standards.
So here they are ... my leather care products.
The Leather Care Kit contains everything you need to clean, condition and protect your leather ... and is the most cost effective option.