Spray Leather Restoration Products
This is the exact same system I use for professional work and will most certainly give you the BEST results ... by far. Ideal for car and furniture leather where the best, long lasting results are wanted.
To use this sytem, you will need spray equipment ... small compressor and preferably gravity fed spray guns.
These products are also used in the tanneries, so you'll be able to achieve a very durable, natural look. The colour is water-based and the clear sealer is solvent based.
Download Instructions ...
Here are detailed, step-by-step instructions showing you how to refinish your leather exactly the way I do it.
I suggest you print the instruction in colour as there are lots of coloured photos and example which you'll find really helpful
Download the pdf here ...
Video Clips Showing Restoration Of MK2 Jag Seats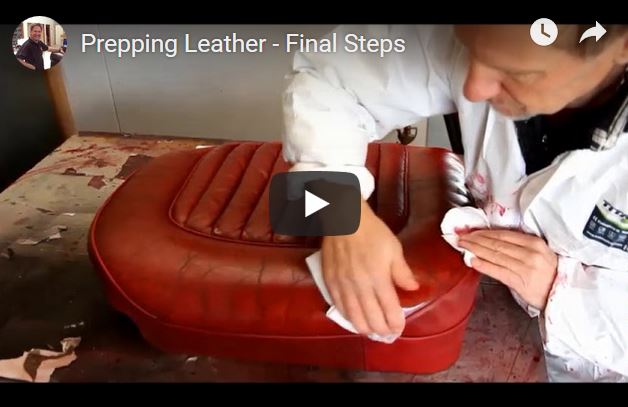 I've put together a collection of small video clips showing you how I go about each step in the restoration process.
Makes it so much easier when you can look over my shoulder!
Go to videos page ...
How To Order ..
With so many different variations of job sizes and colours, I custom make up these kits according to each individual need, so here's what to do ...
Email me some photos of the job you would like to work on, and include your phone number.
Once I've had a look, I'll phone you and we can discuss the different options to getting the results you're looking for.
IMPORTANT Things You Should Know ...
Suitable For: To be use on sealed, single coloured leathers. NOT suitable for nubuck, waxed oil, or aniline leathers. If you are not sure what type of leather you have, leather type this page will help.
Leather Colour: Unless you want standard black, all the colours are custom matched to your leather which I'll need a reasonable size sample to match to.
Can You Change A Leather Colour?: Yes, with the spray system you can. Always a good idea to go darker rather than lighter. Going from dark to light is not recommended.
How To Order Custom Matched Colour: Here's how to order custom matched leather colour
Need Help?: If you are not sure about anything, send me some pictures and I'm more than happy to take a look for you.