Wipe-On Leather Restoration Kits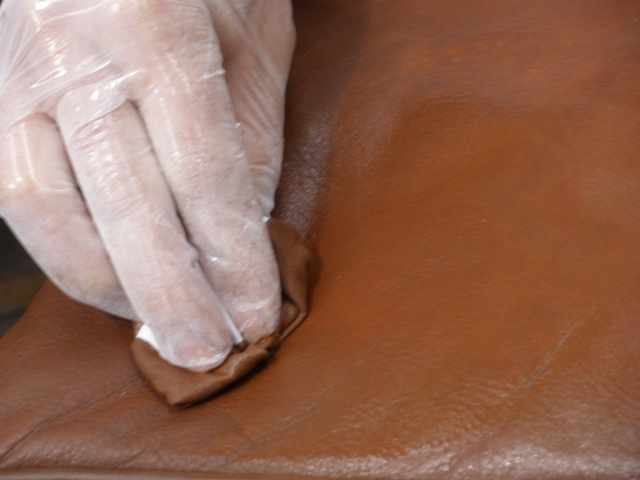 No specialised equipment needed
Easy to use
Water soluable
Non toxic
Here's some examples of leather damage which are ideal for the wipe-on restoration products ...

IMPORTANT Things You Should Know ...
Suitable For: To be use on sealed, single coloured leathers.


NOT suitable for nubuck, waxed oil, aniline or 2-tone mottled leathers.

Custom kits can be made for these leathers. If you are not sure what type of leather you have, leather type this page will help.
Colour Options: These are not your standard off-the-shelf colour ... I personally custom match to a leather sample you'll need to provide. If, however, you would like black, this I can make in a standard satin sheen ... and no sample is needed. You'll see these options listed below.
Changing Colour?: These products are for restoring leather back to its original colour and not recommended for colour changes.
How To Order Custom Matched Colour: Here's how to order custom matched leather colour
Need Help?: If you are not sure about anything, send me some pictures and I'm more than happy to take a look for you.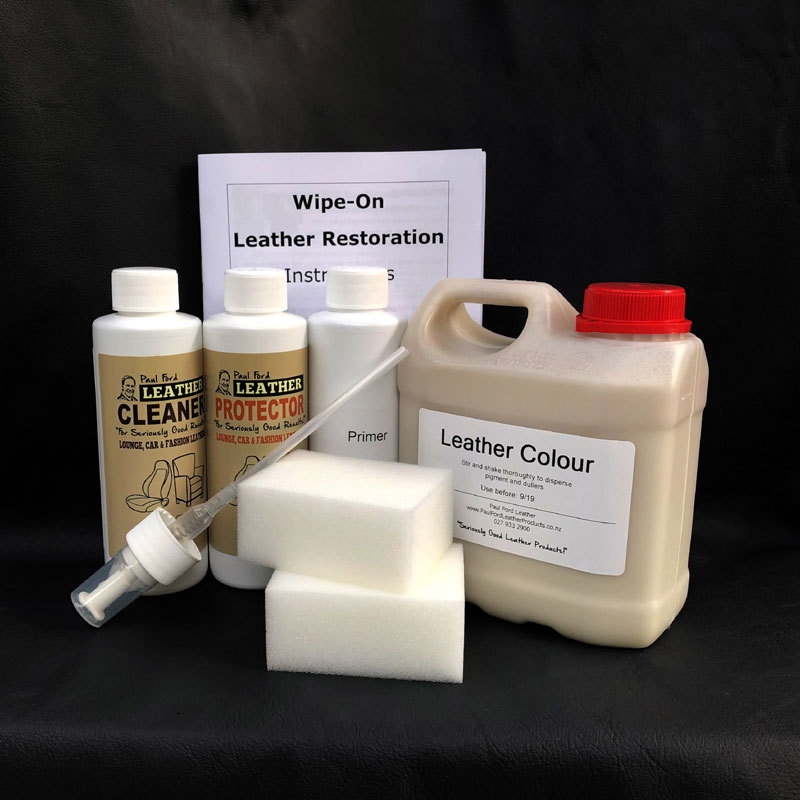 1 Litre
Leather Colour Kit
Contents:
1 x 1 litre Leather Colour (custom colour matched or black)
1 x 250 ml Leather Primer
1 x 250 ml Leather Cleaner
1 x 250 ml Leather Protector
1 x spray applicator
2 x foam pads
1 x cloth (not shown)
The 1 litre is usually enough to recolour the traffic areas (arms, seats and inside backs) of a lounge suite: eg: couch and 2 chairs.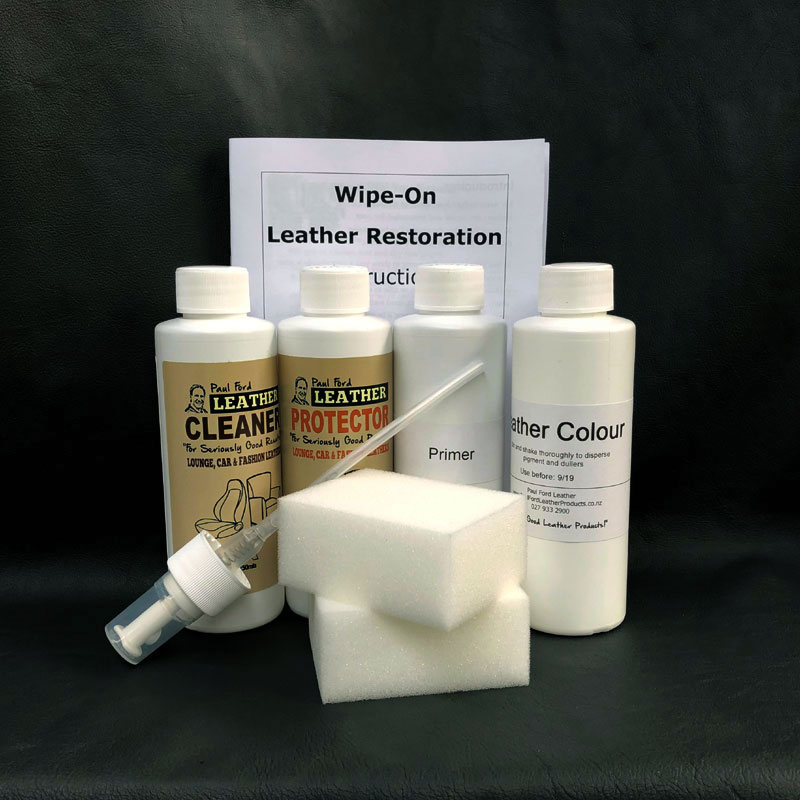 250 mls
Leather Colour Kit
Contents:
1 x 250 mls Leather Colour (custom matched or black)
1 x 125 ml Leather Primer
1 x 250 ml Leather Cleaner
1 x 250 ml Leather Protector
1 x spray applicator
2 x foam pads
1 x cloth (not shown)
If you have a chair you want to transform, this should be enough to do the traffic areas.
Here's How The Process Works ...
Equipment You'll Need To Get From Your Local:
Sandpaper: All you really need is 2 or 3 sheets of 800 grit or similar, wet and dry sandpaper.
Paper Towels: Unless you have a good supply of clean, lint-free rags, I recommend disposable, paper towels. For an average lounge suite or set of car seats, you'll need 6 to 8 rolls.
Scouring Pad: An ordinary kitchen scotch-brite pad will do nicely as a scouring pad.
Kitchen Gloves: To protect your hands
Pantyhose or stocking: Ideal for applying the colour
Methylated Spirits: Meths, is a good universal solvent, readily available, worldwide, from most hardware stores or supermarkets. For the average lounge suite, 1 or 2 litres should be enough. The good thing about Meths is, if you happen to run out, you can simply run down to your local and grab another.
You'll Need To Order:
Leather Restoration Kit: Select one of the above kits.
Step-By-Step Instructions ...
STEP 1: Clean The Leather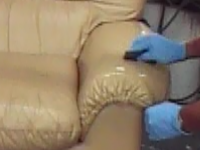 You can either spray the leather cleaner or pour some into the foam pad and spread over the leather (work on one panel at a time).
NOTE: Here's a recent change I've made that will get superior results ... quicker! While still wet, give it a good scrub with the scouring pad. This will not only strip away all the ingrained soiling but will also remove some of the leather colour, which is what we want to do.
NOTE: The scouring pad is only used in restoration work ... not general maintenance! I thought I'd better point that out! For general leather cleaning instructions here.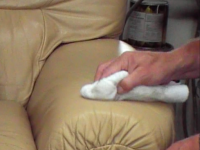 While still wet, wipe off residue with a clean damp towel or paper towel
Repeat this process until you have cleaned the entire project.
For best results, I would do this again over the traffic areas, such as arms, seat cushions etc.
Leave to dry.
STEP 2: Prepping
Here is the prepping procedure in a nutshell: Scrub on ... wipe off. Simple. Here's how it's done ...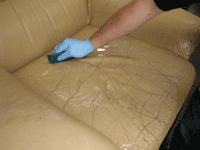 Pour some "methylated spirits"into a clean container and soak the scourer in the meths.
Lightly scrub the leather, making sure you get into all the creases and around the edges. In most cases, you will almost instantly see the leather color dissolve.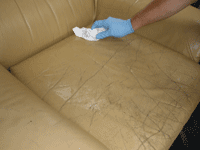 While the leather is still wet, wipe off the excess with a clean paper towel. Don't reuse dirty towels. Each time you wipe off the excess, discard the towel and continue with a fresh one.
Repeat this process over the entire project and allow to dry. I highly recommend you carry out this process at least TWICE to make sure your preparation is thorough.
Allow the project to dry thoroughly. Remember, don't put wet leather in direct sunlight or in front of strong heat.
Once your leather has been thoroughly prepped, and dried, give the entire surface a light sand with sandpaper to de-nib the leather so that it feels smooth when you rub your bare hand over it.
STEP 3: Apply Leather Primer
The Leather Primer is made up with a solvent and new resin and its purpose is to activate your old leather finish to make the new resin bond to it.
Wipe on evenly over the entire job and leave for about 1 hour.
STEP 4: Applying The Colour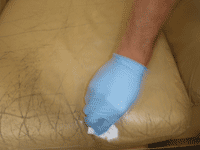 The first step in applying the leather color is to pour a small amount into a clean container, with stocking or pantyhose folded into a pad, small pad, dip into the colour and wipe evenly over the surface of the leather . . . one panel at a time.
The idea here, is to push the color into the pores of the leather. As you can see in the first photo, you can apply the product rather liberally, but make sure you don't leave any ridges or excess color.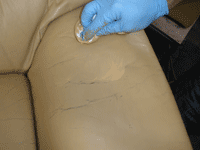 Pay particular attention to piping and stitching, making sure you push the product into those areas. If you have areas of cracking, make sure you thoroughly rub the color into the cracks. This will go a long way to disguising them.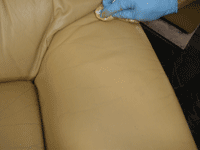 Once you have applied the pigment top coat, leave to dry for about an hour.
You may need to apply 3 or 4 more times to get the desired results, but make sure you wait at least one hour between coats.
STEP 5: Leather Conditioner
When using the leather conditioner, make sure you wait for at least 4 weeks before applying as this will give the finished time to fully cure.
If your leather has lost its suppleness, this will help to recondition and replace the lost moisture content.
STEP 6: Leather Protector
The leather colour should be left to cure for at least 24 hours before applying the leather protector.
This not only seals the leather but will also improve the durability of the finish and leave a warm, natural waxy feel.
Video Demonstration
Here's a video I've taken from my archives demonstrating a previous restoration product. I'll make a new video shortly but this will give you an idea of how simiple leather restoration is.